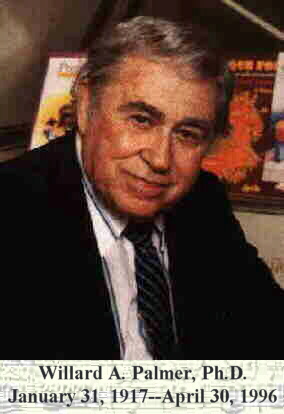 Dr. Willard A. Palmer's Home Page
This page is a memorial to the late Dr. Willard A. Palmer, music educator, editor, author and loving father and husband. It has been designed and built by his sons Willard A. Palmer, III and Thomas M. Palmer.

Willard Palmer was known and respected all over the world as an expert on baroque ornamentation and an innovator in keyboard pedagogy. He started the Masterwork series for Alfred Publishing Co.

One of the key documents that led to the development of the Alfred Masterwork Series was a complete photographic reproduction of Das Klavierbüchlein vor Wilhem Friedemann Bach, which his son found for him at an unusually fortunate time and in a most serendipitous manner. This was the source of the only table of ornamentation extant in J.S. Bach's own hand. It justified his theories of baroque ornamentation and for years was the background of his business card and personal stationery. It is also the background of this web page!

He was also the Palmer of the famous Palmer-Hughes instruction method for accordion.
For memorial photos of Willard "Bill" Palmer and his wife, Ruby, click here.
HELP!
I inherited my father's harpsichord, "Big Red." He played this instrument at several colleges and universities, as well as in concerts all over the United States. Igor Kipnis used it during one of his tours through Texas. It is a very unconventional instrument. I am offering a generous reward for anyone who is an experienced harpsichord technician who will come to Houston and show me how to make this instrument function properly. I will also pay transportation and lodging. I am a quick study. The instrument has not been properly set up in about 14 years. It has been in its present location, at a fairly stable humidity and temperature for about 6 years. Pictures of this instrument are located in the photo gallery, directly beneath this paragraph and at the "Big Red" web site.

For further information contact Bill Palmer.
To find the piano materials edited by Willard Palmer, contact Alfred Publishing Co.


For articles concerning Willard Palmer's contributions to the accordion, click here.

For the largest web site in the world dedicated exclusively to the accordion (and other free-reed instruments) in classical music, visit The Classical Free-Reed, Inc.

For a wealth of accordion links, visit Accordionlinks.com.

For plenty of good accordion information go to the House of Musical Traditions. Wendy Morrison has written a manual concerning accordion maintenance that all accordionists must have!

This site was featured as a Site of the Week on Search-Accordion. Click here to view Lionel Reekie's article.

To visit New Zealand Accordionist Lionel Reekie's web site, click here.
Please forward any comments, questions, requests or contributions to bill@billpalmer.com

Please bookmark this page and come visit us again later.